Online Store
RotaFlex Internal Rotation
---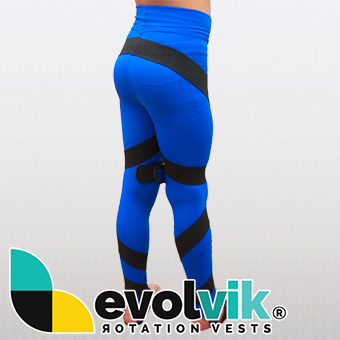 Classified under
Description
Pant with built-in elastics for easy rotation. RotaFlex was developed primarily for the purpose of being an extension of intensive therapy, but can easily be used in everyday activities.
Patients who need help correcting their externally rotating lower limbs can benefit from using the RotaFlex for internal rotation. The elastic starts around the upper thigh and rotates toward the lower thigh closer to the back of the knee or back of the leg. To complete the rotation, the second elastic, located near the back of the knee is rotated around the front of the leg, ending near the top of the foot. You will instantly notice the change in rotation.
Frequent and gradual use of the pants provide alignment of the lower limbs, improvement in somatosensory response, concentration and gradual decrease of stereotypes.
Considerations
A qualified therapist should indicate the choice of clothing and the weather conditions suitable for use.
Recommended for patients from 1 to 14 years.
Not suitable for patients with severe cardiovascular disease, severe reflux, contagious diseases and/or uncontrolled convulsions.
Material
Lycra (97% polyamide and 13% elastane)